be nam Khoda
ba ejaze asatid mohtaram in topic ro mizanam
emroz dashtam be in fekr mikardam ke che khob mishe ke masalan baray softi ke minvisam
age kasi to room pm dad , alave bar in ke pm taraf dar richTextBox namaiyesh dadeh beshe jeloy on pm ham time ersal pm zade beshe ! mesl tamami client hay jabber ! khob emshab man beheton migam ke chetor mishe ie clock dar c# benvisim va age kami ba hosh bashid ke hatman hame shmoa ba hoshid(ino az tah del migam) mitonid az in amozesh , dar softhay khodeton bahreh bebarid [in amozesh baray khodesh mitone jaraghe'ei bashe vase tolid softhay behtar va ba kayfiat tar]
1. ie project c# ijad konid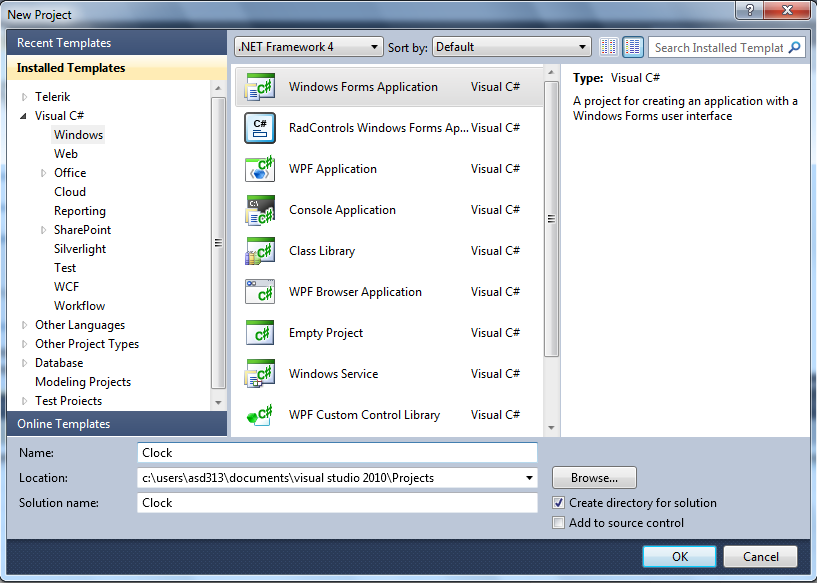 2. ie label be form ezafeh konid
3.hala ie timer be formeton ezafeh konin va age khastid clocketon sanieh shomar dashte bashe , intervale in timer ro , roy kamtar az 1000 set konid
4. hala roy timer doble click konid
5.dar qesmat timer in code ro benvisid :
Code:

label1.Text=DateTime.Now.ToString("HH:mm:ss tt");
// HH = baray sa'at hastesh
// mm= daqayeqh
// ss=sanieh
// tt= taeine AM ya PM bodan time !

6. dar qesmat form load ham ino benvisid :
Code:

timer1.Start();
           label1.Text=DateTime.Now.ToString("HH:mm:ss tt");

fekr konam kar dige tamome ! project ro ejra konid , ejra kardid? jaleb bod? na? va albate khieyli ham sadeh bod !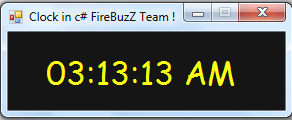 albateh midonam in ie amozesh sadeh va mobtadianeh hastesh ama man az amd ino
gozashtam ke be hame programmera yad avari konam ke age bekhan softi benvisan az time
ham use konan
omidvaram ke in amozesh kochak betoneh beheton komaki karde bashe
va
hamintor omidvaram ke hame az in be bad toy softhashon az time use konan che hengam
join che hengam left che hengam pm dadan va . . .
age natonestid az time dar projectha va softhay taht nimbuzz khodeton estefadeh konid
begid ta ie amozsh digehiy baraton tadarok bebinam en sha allah
dar panah tanha barnameh nevis hasti . . .

YA HAGH

FireBuzZ TeaM !!!